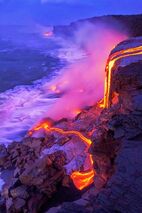 Hail Frost is the second novel in the Leverage Series by Kaycee Browning. It is scheduled to be published in 2014.
After defeating the Pull Lord and finding the other Leverage, Hail thought the stormy clouds of his past would vanish. Instead, he finds himself traipsing through the countryside with his annoying brother while searching for the mysterious lost Leverage. When his temper flares and he delves back into his deadly habits, Valin, the new Pull Lord, gives Hail an ultimatum: Give up the search and be free from his past, or continue and place everyone he loves in mortal danger. The only way to escape the challenge is to recover the lost Leverage and begin the war against the Pull. But with his sister the focus of Valin's wrath; his best friend in the hands of a witch; and his brother questioning his every decision- concentration is difficult. Will Hail relent the quest to free himself of his guilt? Or will he fight the Pull, despite the danger to himself and those he loves?
Ad blocker interference detected!
Wikia is a free-to-use site that makes money from advertising. We have a modified experience for viewers using ad blockers

Wikia is not accessible if you've made further modifications. Remove the custom ad blocker rule(s) and the page will load as expected.